Imlay City MI Real Estate | Where Are Home Values Headed?
Team Success Listing LLC
As Imlay City has developed over the years, many neighborhoods are now blended with one another making a most vibrant community. If you are looking for a city living style with a flair of urban village, Imlay City has everything to offer and more.
In the last 30 days (11-29-18) 11 homes have sold at an average price of $185k and sold within 25 days on market. 14 new listings giving us a total of 4.4 months supply of homes for sale, still in a sellers market.
Today, we would like to talk about "Where are Home Values Headed?"
There are many questions about where home prices will be next year as well as where they may be headed over the next several years to come. We have gathered the most reliable sources to help answer these questions:
The Home Price Expectation Survey – A survey of over 100 market analysts, real estate experts, and economists conducted by Pulsenomics each quarter.
Zelman & Associates – The firm leverages unparalleled housing market expertise, extensive surveys of industry executives, and rigorous financial analysis to deliver proprietary research and advice to leading global institutional investors and senior-level company executives.
Mortgage Bankers Association (MBA) – As the leading advocate for the real estate finance industry, the MBA enables members to successfully deliver fair, sustainable, and responsible real estate financing within ever-changing business environments.
Freddie Mac – An organization whose mission is to provide liquidity, stability, and affordability to the U.S. housing market in all economic conditions extending to all communities from coast to coast.
The National Association of Realtors (NAR) – The largest association of real estate professionals in the world.
Fannie Mae – A leading source of financing for mortgage lenders, providing access to affordable mortgage financing in all markets always.
Here are their projections of prices going forward: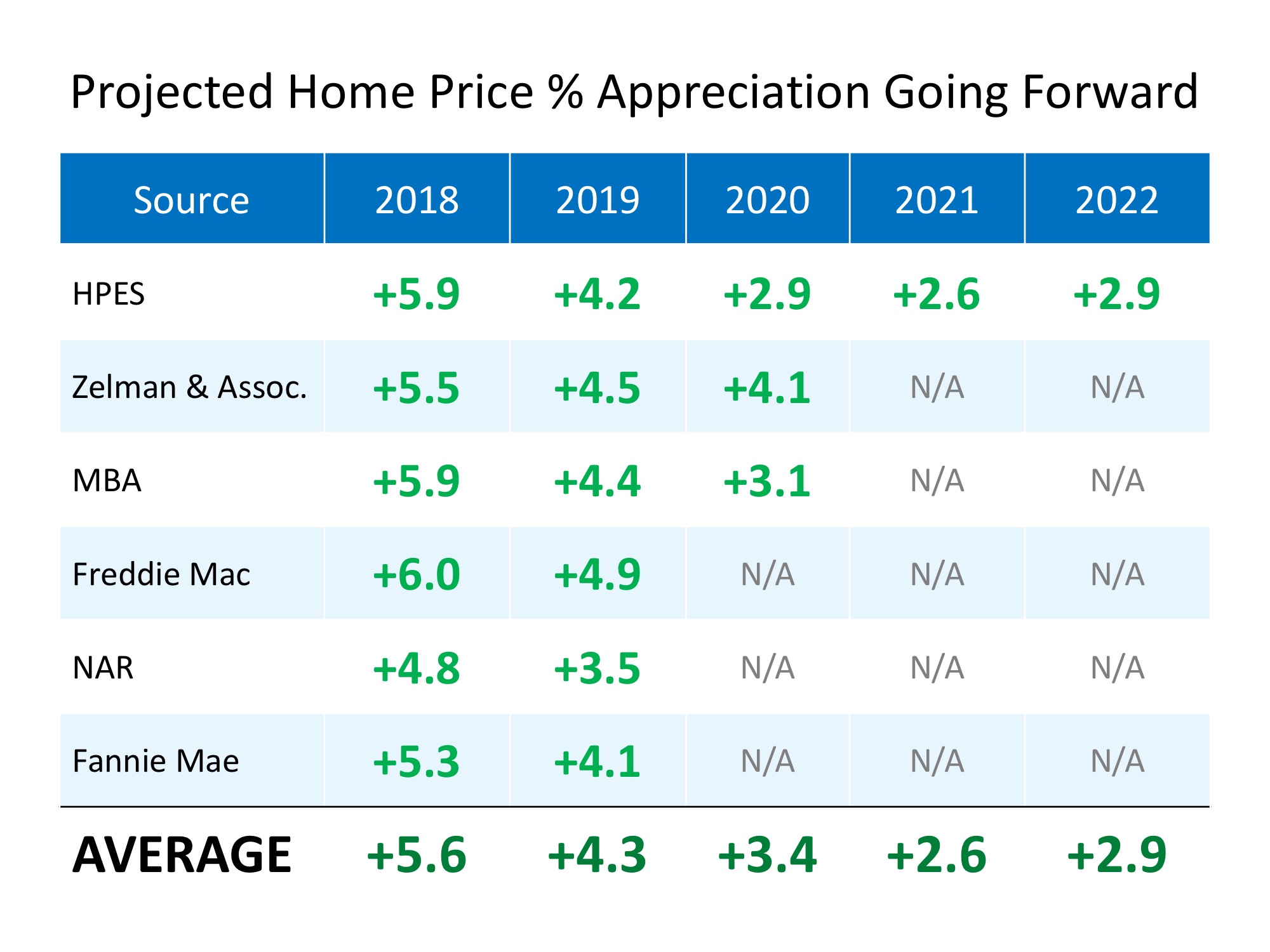 Bottom Line
Every source sees home prices continuing to appreciate – just at lower percentages as we move through the next several years.
Source … KCM Donald Horne Blog
If you have any questions about Imlay City, the schools, amenities or the surrounding community, don't hesitate to give us a call / text at 810-338-0628 or email us at teamsuccesslisting@gmail.com We will be happy to help you. 
Donald Horne, Broker / Owner | Team Success Listing LLC
810-338-0628 | teamsuccesslisting@gmail.com
YouTube Channel | Instant Home Valuation
Free Guides For Buyers / Sellers
Website | Client Reviews